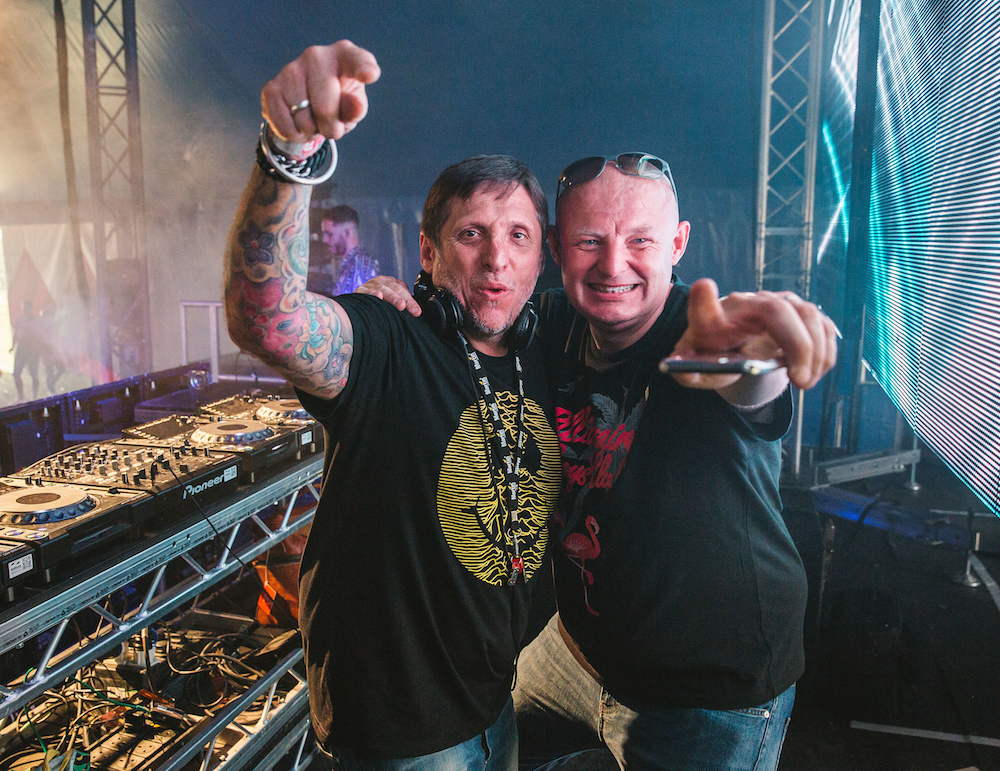 So Brandon Block, where do we start?
When considering which DJ to interview first on our blog, the most entertaining of them all arguably came straight to mind... Blocko. Loved by many, learn about his shocking new habit...badminton! And much much more, like his passions and inspirations and generally just a good read. We think you'll enjoy this, want to know what the last two songs he'd ever want to hear on this planet? Read on!
The most infamous and famous DJ probably of his generation and, I think we all know he struggled terribly with substances and nearly died, but managed to turn his life completely round which has been covered many times before so we won't mention to much of that, other than we're so glad he did - what would we do without Blocko?

We still have some stock of the collaboration we've done with Brandon Block, Ravey Davey Gravy from Viz which he was featured in back in the nineties - so please help us by buying this exclusive tee, £10 for every sales goes to Blenheim CDP who are a charity that really help people with addiction issues. Click here to view it, or watch this video:
So other than that, he's managed to stay one of the most booked DJ's on the circuit and still plays regularly at the biggest events put on not just in the UK. Known by everyone as one of the nicest DJ's, doesn't take himself too seriously and you will struggle to find any ego which is rare for such a successful person.

His own success has seen him, like no other DJ, crossover into mainstream celebrity too and there's five million Google images of him (even Tiesto only has 800k).  He's even managed to get on Celebrity Big Brother, not to mention the famous incident at the Brit Awards where he went up to collect the lifetime achievement award for the Rolling Stones.. Hilarious moment some of us will never forget, who else would dare?
And this is a truly shocking revelation - for a former legendary caner, he now get's his kicks from playing Badminton - doesn't get anymore rock and roll than that. Shuttlecock and roll you might say...  
Also, he spends a lot of his time now helping people with substance and alcohol problems. This is a man who cares about others, he doesn't just put his feet up in the week - ever inspirational and an irresistible force the world can't stop (the Block). We love Brandon because like us, he doesn't always play by the rules of conformity, and life is never dull with him around. So we make a good combination, and a lot of our followers love him of course. One even called him Sir Brandon Of Block, and you know Blocko - don't rule it out!
We're honoured that Brandon is a big fan of our brand, so we thought we'd write this post and ask some questions that aren't just the usual same ones. So, here we go…hope you find this as interesting as we do:
Interview.
Q: What was the first song you heard, even if you were young, that changed your life?
I think it was more of a style of music as opposed to Ione song in Particular I have many songs that have meaning and memories I will always treasure, but when I first heard jazz funk and learned to shuffle dance in the lunchtime school disco that was my calling.
Q: What words of hope could you give someone reading this who is struggling with addiction, as someone who managed to completely turn their life round? What is the first advice you would give them? 
My first piece of advice would be to ask for help, there are so many people who all have unique experiences and are willing to help, but more importantly don't be afraid to ask. The sooner you get help the sooner you'll start to get better. It's all doable and there is so much support and knowledge out there just reach out and help yourself.

Q: I know this question is a book in itself - what was the craziest, funniest thing you ever saw in Ibiza..?
I can't even remember the funniest thing every single day I spent there was fun, one thing that springs to mind was during one of the most incredible storms the whole street was a river so a bunch of us, took plastic chairs from outside one the of the restaurants and floated down the street paddling with our arms ending up in a pile at the bottom of the west end and promptly hot footing to Mambo's to host the lock in of the decade we barricaded ourselves in to keep the rain out and the party going.

Q: Tell us three tracks you would play if you could have total free reign and people weren't expecting house or dance music?
I would play Hue and Cry - Labour Of Love, Curiosity Killed the Cat - Misfit, and Level 42 - Wings of love.
Q: Why do you think there's been this ever growing retro acid house scene the last few years?
I honestly think that the music scene has been saturated and theres so much that people find it hard to relate, so they're getting back to where the music had meaning for them and were their best memories were created.
Q: What is your favourite ever dance track of all time, doesn't matter if you don't play it usually or ever, even if it's before house music?
It's an impossible question, I will list 5 of my fav's but this by no means all of them. And in no particular order:

Q: You have 10 minutes to live, what is the last ever two songs you want to hear (doesn't have to be dance/electronic)?
Joni Mitchell - Both Sides Now and Born Free - Matt Munro.
Q: What's next for Brandon Block, I know you're doing multiple things other than DJ'ing - what is your main objective you want to achieve out of life now?
I aim to write a program for people wanting to change deep set behaviours and make vital life changes, I have my festival I'm working on called Strawberry Woods which will be incredible. I'm making music again and have a radio show with Ricky Morrison on MI-Soul radio, I also have lots of gigs again I'm stepping back into my Soul and Disco roots. 
You can buy Brandon Block's amazing autobiography from Amazon at this link: